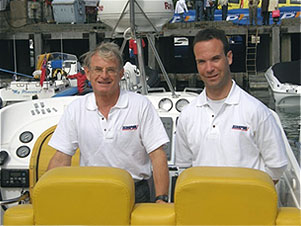 Mike and Dave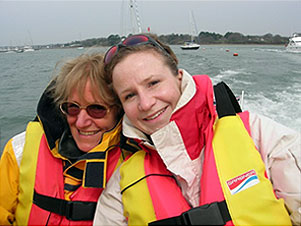 Maggie and Sally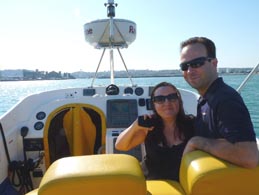 Wendy and Dave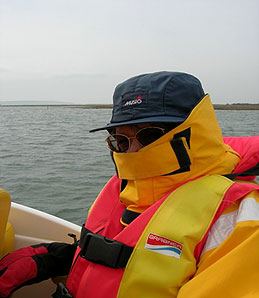 Maggie in holiday gear…. (note the mittens
Our first RIB was a 2.5m Avon Searider, we then progressed to a 6.5m Bluewater Maritime RIB (BWM) followed by a 7.5m BWM. Then came our diesel powered Scorpion RIBs which we've used to cruise throughout the UK, to take part in many National and International races and to set six World Records.

Hot Lemon 5 is a 10m Scorpion Sports Cruiser, she is a 'stepped' hull design by Lorne Campbell and was built of standard GRP (no Kevlar or carbon fibre) but incorporates a good deal of foam sandwich in her superstructure for lightness and strength. The luxury features usually found on the Scorpion Sports Cruisers have been omitted and, whilst she has no bunks, cooker or shower, she does have carpeting plus four exceedingly comfortable bolster seats with rise/fall squabs and a bench seat plus a nice sea toilet in the cabin! The hand lay-up used on the hull comprises a GRP composite E-glass with a 12mm Herex cored deck, cabin top and engine box lid. She has a dry weight of approx 3200 kgs but a 'normal' weight of approx 4000 kgs plus fuel.

The team at Scorpion RIBS are without any doubt the very best in the business; their enthusiasm, knowledge and ability are unmatched and the smallest detail is completed with total skill and attention, Hot Lemon exists because of Team Scorpion.

We designed Hot Lemon specifically to attempt the Round Britain World Record for craft under 30' (success!) and you can see that she has a very blunt nose; we used an angle grinder to shorten her by 4" so as to bring her into class!

The power units are two, perfectly standard, 4.2 litre 315hp Yanmar diesel engines. Apart from very regular oil changes and a thorough annual service, the engines are 'out of the box' with no changes whatsoever. We changed the standard Bravo 1 outdrive legs for Imco SC/SCX drive units mounted on 12" stand-off boxes so as to gain strength and performance; she has high-spec 4 ram Imco steering & we've also fitted prop ventilation to reduce turbo lag . All our engineering is carried out by Dave Crawford Marine in Lymington, their team's knowledge and attention to detail is superb and Hot Lemon could never have achieved any of her successes without them.

We use a range of propellers depending on the task in hand and we choose from a set of specially developed Hydromotive five blade propellers of various pitch or a pair of Bravo four blade 32.5" pitch.

We considered using larger engines but followed Lorne Campbell's excellent advice and concentrated on maximising her power to weight ratio using conventional GRP and standard engines. This power to weight ratio, and the truly superb seakeeping of the original David Marsh hull, is the reason for Hot Lemon's success…keep everything as simple as possible, build the hull and the engineering to the very best standards and cut the weight. The ability to maintain a high average speed on endurance runs was vital from the start and was particularly important when carrying some 380 gallons (1725 litres) of fuel weighing in at close on 1.5 tons. Fuel is stored in the 200 gall underdeck tanks and we add deck tanks according to need. We use pumps to maintain trim as fuel is used and the deck tank is plumbed straight into the main tank fillers.

Hot Lemon is fitted with two GPS systems, twin VHF radios, two plotters, a radar,
a radar reflector, a Navtex, floor and dashboard operated trim switches and various other bits and pieces. We've also added shock mitigation flooring to make the ride even softer. In the right conditions, Hot Lemon will run close to 60 kts but her real strength is a superb ability to maintain high average speeds in arduous conditions.

More information on some of the above can be found on our Links page.